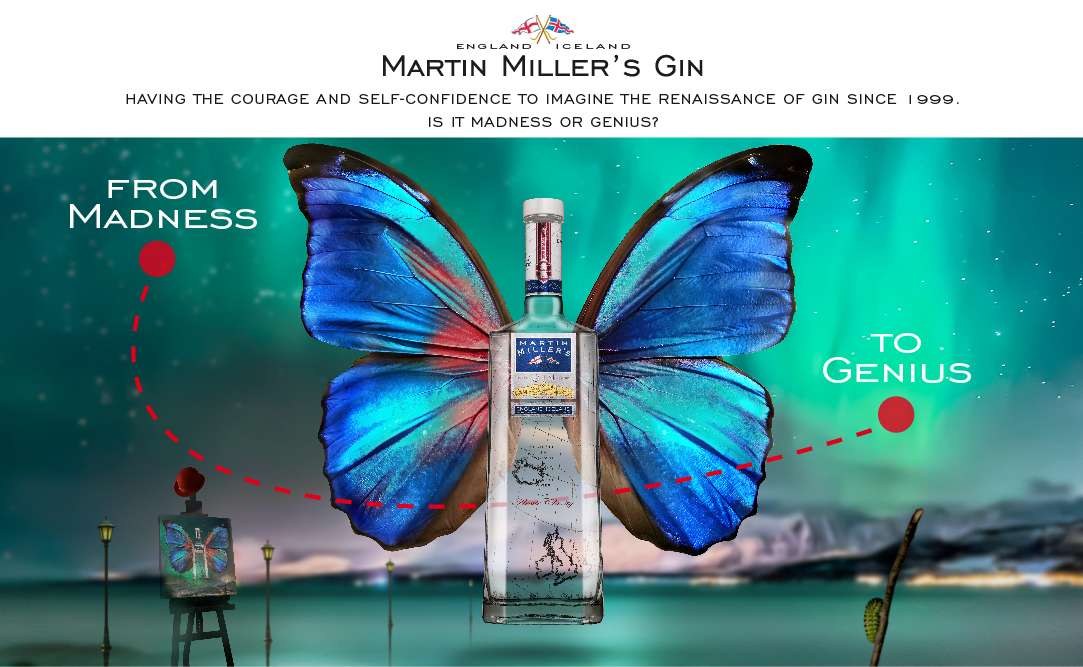 "FROM MADNESS TO GENIUS"
Martin Miller's Gin – the first super-premium gin on the market, which triggered the gin renaissance when it launched in 1999, today reveals a stand-out new brand positioning underpinned by Art and Creativity. The new campaign communicates the extraordinary brand story of transformation; from a 'mad' idea to a genius gin.
From Madness to Genius
The new positioning strategy is inspired by the eponymous Martin Miller, who, with his co-founders, challenged the convention of traditional gin production with a unique dual distillation process and dual heritage product, resulting in a gin distilled in England from the finest botanicals and blended with the world's purest spring water from Iceland. Miller's artistic soul, entrepreneurial attitude and obsession to create the world's best gin is the transformation defined by a fresh tagline, From Madness To Genius.
Surrealist Visual Identity
The campaign launches from February 2021 and expresses a new visual territory for Martin Miller's Gin in a series of artistic creatives, initially from the Surrealist movement, that nod to its foundations and core brand principles – those of transformation, process, consistency, vision and renaissance. The brand roll-out includes an integrated programme of activity:
A unique brand signifier – a red dotted line - representing Transformation in its simplest form; the founder's unique vision, personality and idea (From Madness…) to the finest gin that challenges the status quo of the gin category (…To Genius)
A new website featuring interactive touchpoints and links to e-commerce platforms
A fresh social media strategy with new look and feel, using #FromMadnessToGenius #MartinMillersGin
Art and Creativity platform
Art and Creativity will underpin the global marketing platform, with the first execution establishing Martin Miller's Gin as the exclusive drinks partner for the Affordable Online Art Fair in March (12 March – 5 April 2021) and - Covid-pending - the flagship Autumn Edition in October in Battersea, London. The partnership will see the commissioning of original artworks exploring the 'From Madness To Genius' concept; a series of educational and inspiring talks and tastings with the global ambassador; and themed bar installations.
As the highest-performing market, the UK will lead the new global marketing platform with roll-out ambitions in all international markets this year and into 2022 and beyond.
This daring new position is spearheaded by Global Sales and Marketing Director, Robert Eastham, and Global Brand Manager Arturo Illán who were appointed in 2019, as the brand turned 20 years old. Tasked to achieve significant global brand growth, to cement its reputation as the benchmark super premium gin globally, this strategic lead reimagines the gin's visual brand identity yet remains true to its dual English and Icelandic heritage and the founder's visionary spirit of artistry, creativity and entrepreneurship.
Global Sales and Marketing Director, Robert Eastham comments; "Ironically, the chaos of the pandemic sharpened our thinking and confirmed the relevance of this new direction.  This marks a new beginning for the global Martin Miller's Gin business and a new generation of gin drinkers. Our new positioning will strengthen our brand in the digital sphere and aid our connection to consumers in these strange times. Meanwhile, From Madness To Genius is all about passion to do something well, according to one's own criteria. It means taking a stance and running with it regardless of the outcome. The founder's dream was to create the best gin in the world – whatever the cost – and he achieved a liquid masterpiece in this creative process, which is probably the most awarded of its category. As Martin Miller's Gin comes of age, we want everything we do as a brand to be informed by its founding principles – from the look and feel of our website and bottles, to our growing support for the art and creative communities on an international scale."
For further information and interviews, please visit www.martinmillersgin.com.